A teacher and passionate 2-wheeled tourist, the irrepressible Jacinta Costello continues to inspire a love of cycling in others. Jacinta's cycling 'career' began in 1974 when as a physical education student at Rusden College, in the Melbourne suburb of Clayton, she headed to Tasmania with her friend Jeanette for a month of touring on borrowed bikes.
In itself, nothing particularly notable – except they cycled in bikinis.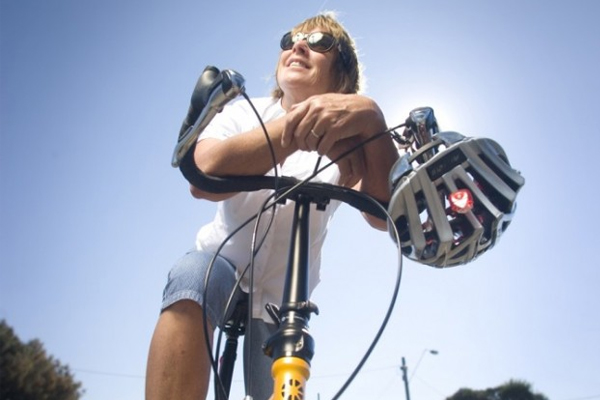 "We went down some pretty steep hills and prayed we wouldn't come off. We didn't and it was such a good trip that I've been cycle-touring ever since," says Jacinta. In fact the trip turned her into an ardent cycling activist as well as organiser of European adventures and bike tours with girlfriends. Today, a mother of 4, she owns 3 bikes, including a Dahon Speed Pro she refers to as her 'Little Mango'.
At 58, Jacinta has the trim brown legs of a woman who has been active her whole life. Her blonde hair is cut in a neat bob and there is a tan loop on her nose from years of wearing sunglasses. "Cycling is very important to me. I enjoy the camaraderie and happenstance of this slower form of transport. It helps people to enjoy life – gets those little endorphins jumping in."
Art of persuasion
It's hard to resist Jacinta's enthusiasm; just ask any of her 4 children, who still participate in obligatory family bike rides every birthday and mother's day. Hers is the energetic grin of someone who believes she will convince you with unassailable logic. Take her organisation of a protest in the 1980s against Brighton Council's back-tracking on a decision to connect Brighton's Bay Trail with those of neighbouring suburbs. Jacinta, by now a PE teacher, put her students to work on posters for a rally. On the big day Channel Nine filmed Jacinta, with megaphone, leading a phalanx of local children on BMXs down the main street. The council was persuaded.
More recently, from early 2007 until mid 2008, Jacinta spent 18 months employed at the same council, now called Bayside, as bicycle and road safety education officer. Her task: to implement a bike strategy. She marshalled local cyclists, and representatives from Victoria Police, VicRoads, Bicycle Victoria and the Melbourne Metropolitan Transport Forum and by the time the job wound up she had laid the foundation for a policy to guide the council for years to come.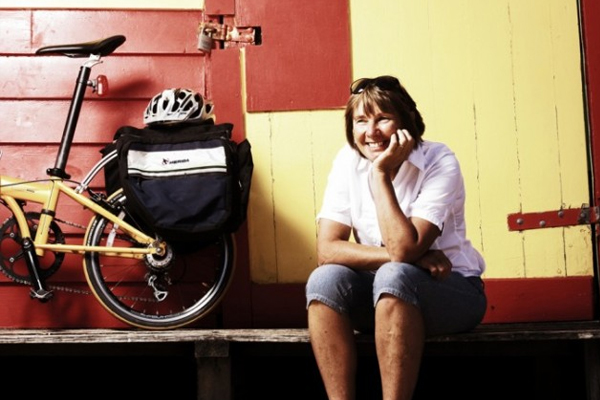 Bike Vs family
In the early 1980s, Jacinta rode her Repco from Brighton to work at Waverley High School every day, a ritual interrupted only when the bike collapsed while climbing a hill. At the time she was more than 7 months pregnant with her eldest son. The baby was fine. The bike was replaced.
After her second child, Jacinta's mother bought her one of the first pull-along buggies: "It was $100 … and I was then able to cycle with 2 kids. When it was time to cycle with 3 kids, number 1 by then was on his own bike, and number 2 and number 3 were sitting in the 'Brighton Bug', as we used to call it."
The buggy with its cargo of Costello offspring made the family a familiar, and frequently photographed, sight in the neighbourhood. By now the girls' trips started being replaced by family adventures; often involving an overnight train trip to a country town and a ride on the Sunday. The evidence is in the photographs on the walls of Jacinta and husband Greg's house: children at various ages, cheeks blooming, lined up to be photographed for posterity.
In 1996, with all children at school, Jacinta went on her big comeback tour with girlfriends; back to Tasmania – albeit wearing more than bikinis.
Meanwhile her legacy from when she returned to part-time PE teaching at Ruyton Girls' School lives on. She began taking pupils on the Great Victorian Bike Ride and this has now become part of the curriculum, introducing yet again a new generation to cycling.
Today, bicycle touring with girlfriends remains one of Jacinta's preferred riding modes. The girls' tours are leisurely stretches during which Jacinta and a handful of friends roll into gourmet food haunts and stay the night in B&Bs. The women, kitted in Lycra, ride up to 100 kilometres a day with a back-up vehicle that they take turns to drive.