How did 'Ladies Back On Your Bike' start?
Learn More About Us
---
JACINTA COSTELLO – INSTRUCTOR AND FOUNDER OF LBOYB
With the creation of 'Ladies Back On Your Bike' a lifelong dream is born and a new path is opened for ladies like you.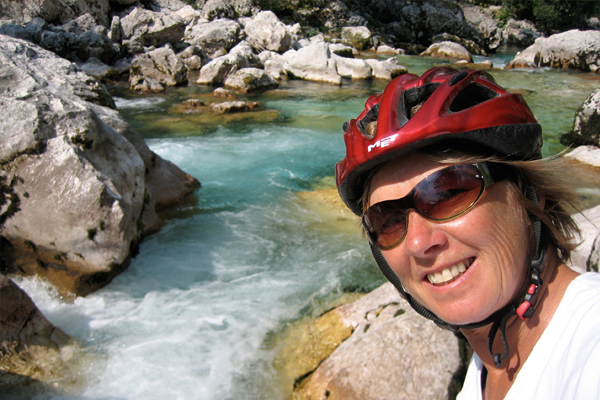 Jacinta's teaching career begun when flares were still rocking and photos naturally shone with an Instagram glow. You've guessed it. We're talking about the psychedelic seventies.
She graduated from Rusden with a Bachelor of Education, with a P. E major, in 1976 and from there began working as a Phys. Ed teacher at Balmoral Secondary. Her passion for cycling surged as she cycled her way through the beautiful western district county side every chance she had.
Jacinta's passion for cycling is obvious and amply demonstrated from as long ago as 1981, when upon reading that Brighton (now Bayside) Council had opposed the building of a bicycle path along the Bay. She acted promptly and organized a rally in Church St Brighton. Luckily she peddled the system so well that this outcry successfully caused the Council to reverse its decision and consequently we have the glorious Bay Trail, as you know it today along the beach following the Bay.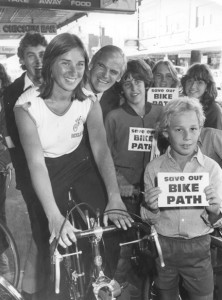 Convinced that not only Bayside residents should feel the freedom and joys of cycling, she approached schools in later years to incorporate cycling programs into their curriculum. This resulted in her personally taking school groups of students on Great Victorian Bike Rides for the following five years, whilst continuing to teach at Ruyton Girls School.
From 2004 to 2013 Jacinta continued being involved in cycling, teaching and road safety education with the Education Department, Vic Roads, Bayside Council and Victoria University.
Along the way, Jacinta motivated her colleagues to get back on their bike. As Bicycle and Road Safety Officer, at Bayside Council, not only did she strive to implement the 2007-09 Bicycle Strategy, but she also introduced cycling to the staff. Weekly lunchtime lessons converted to weekly rides and finally culminated in a Bayside Council team cycling in the famous 'Around The Bay' together in 2008.  Jacinta went on to write the Bayside Cycling Strategy 2009-14, before leaving the Council, heading to Vic Roads and Vic Education Dept, to work on road safety.
Keen to convert any and all to her two wheeled religion over the years, as you will read in the testimonials, Jacinta has taught all to not only cycle but to take part in local, interstate and international cycle journeys. Jacinta has organised and partaken in cycle trips from Tasmania to the Arctic Circle and many more in between!
"cycling is not just a sport, or a mode of transport, but a vehicle that connects you with others and the world around you "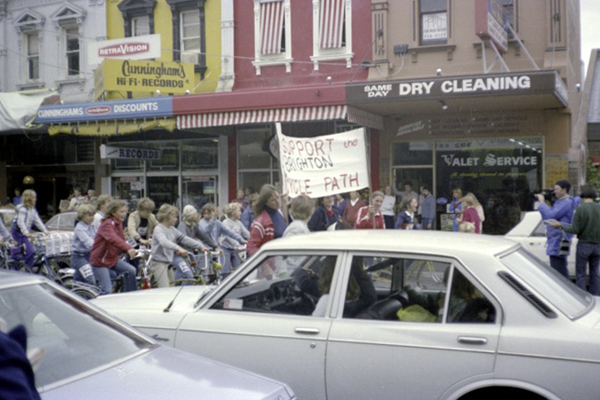 These journeys are an invaluable education of one's self, of the environment and culture. And a heap of fun!
Finally, she says, the people she has encountered, the places she's seen and the joy she's felt from all these years cycling has made her realise that cycling is not just a sport, or a mode of transport, but a vehicle that connects you with others and the world around you.
Jacinta is really motivated and excited to share this joy, meet more incredible women and let cycling take you on a new route that you may only now imagine. So, are you ready ladies to come with me? It's time to get from the car, the gym or the couch and back on your bike!
«Jacinta is passionate about cycling and is dedicated, thorough and enthusiastic about whatever task she undertakes….»
« Just wanted to Thank you Jacinta for the ride on Wednesday, and the swim afterwards. We had a great time over the three sessions, wish there were more for sure…»
Jacinta has an amazing enthusiasm for cycling and a bubbly go get them personality I couldn't help but get inspired myself to get my wheels on the road