Public Lessons (non-members)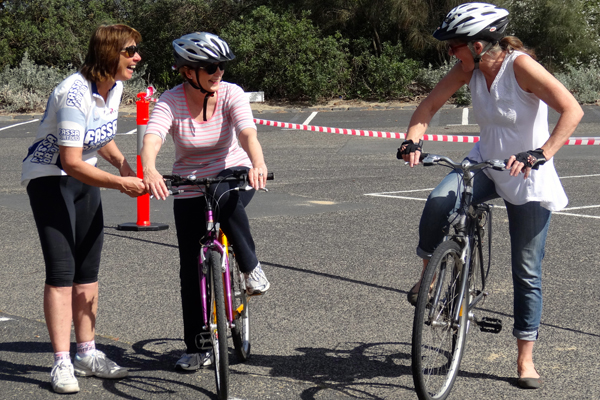 Private and Group Lessons are usually held in Elwood / St Kilda and may be scheduled on weekdays or the weekend.
Private Lessons are for any level of cycling from, those who have never ridden or those wishing to brush up on their cycling skills. Private lessons run for 60 mins and cost $80.(GST inc)
IF YOU DON'T HAVE A BIKE, NO PROBLEM, WE'LL SUPPLY A BIKE FOR YOU TO LEARN ON AT NO EXTRA CHARGE.
WE'LL LET YOU BORROW IT TOO, (AT $25  A WEEK CHARGE IF YOU ARE HAVING A FOLLOW UP LESSON WITHIN THE WEEK).
Private lessons are not listed on the calendar as these are arranged to mutually suit the instructor and cyclist.
Group Lessons are designed to build cycling skills and rider confidence.  They comprise of up to three ladies and one instructor.  Group lessons run for 1.5 hours and cost $50 (GST inc) per cyclist.
Group lessons are listed on the rides/events calendar.
What Happens Next?
If you wish you may join Ladies Back On Your Bike, you will be assigned to a group suitable for you to cycle with, such that you will not be intimidated nor bored.  The annual membership is $130 per year.(GST inc)
Category
Session
Where
Progress to
Never ridden before
One hour private lesson, cost $80
Secure off road area, usually in Elwood / St Kilda
Cycling on bike paths.  If you join LBOYB, you can ride in our:
1. Melbourne Path Rides
2. Social rides
Childhood Riders (those who haven't ridden for 20-30 years)
Group Lesson (ratio 3 : 1 instructor) 1.5 hours = $50 or One hour Private Lesson = $80
Secure off road area, usually in Elwood / St Kilda, but possible elsewhere by arrangement.
Group Rides for:
1. Melbourne Path Rides
2. Social rides
Recent riders (those who haven't ridden for a few years)
Group Lesson (ratio 3 : 1 instructor) 1.5 hours = $50 or One hour Private Lesson = $80
Secure off road area. Usually in Elwood / St Kilda, but possible elsewhere by arrangement.
Cycling on bike paths.  If you join LBOYB, you can ride in our:
1. Melbourne Path Rides
2. Social rides
3. Path 2 Road
Ready to move from the cycle path to the road
 Join the Path 2 Road sessions.
the Path 2 Road sessions have been, like most things, disrupted by the numerous covid lockdowns.  It is hoped the next P2R session  will  be in September 2021.

There are also optional weekends away, offered after the P2R, during the year.  Contact Admin (admin@ladiesbackonyourbike.com.au) for further details.

Each session has a component in a safe off road area, learning skills, then a portion on the road in a small supervised group.
Cycling on bike paths.  If you join LBOYB, you can ride in our:

1. Melbourne Road Rides

2. Social rides

3. Weekend, overnight, overseas trips
Plus

4. Various charity rides in Melbourne or elsewhere e.g. MS ride, Conquer cancer ride

5.Great Vic Bike Ride (GVBR), GQR, GTR

6. Around The Bay (ATB)

7. LBOYB  Challenge
---