Virginia McSweeney has accomplished what she aimed for 8 months ago. 8 months ago, Feb 2013, Ginny had her first ever ride on a bike, a cycle class with Ladies Back On Your Bike. At this session she announced she wished to ride in the Conquer Cancer ride on Oct 26-27. This was to remember both her mother Maureen, and mother in law Ann, who died when in their 60's of cancer.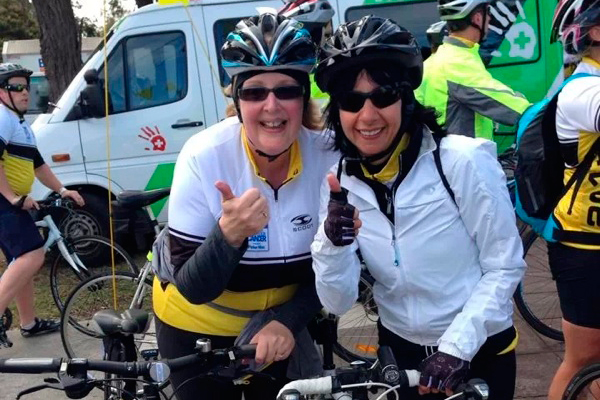 This was a huge challenge for anyone, let alone someone who has never ridden and was pretty 'afraid' of anything in front of her on the path whether it moved or not! That is history now! Ginny obviously really focused on her goal and considering she works 4 days a week and as a Mum and wife to husband and twin sons, this is a wonderful achievement.
Ginny was one of 1,223 Riders who cycled from Melbourne last Saturday, camped in Hastings overnight, then cycled back through the Mornington Peninsular and Melbourne's Bayside suburbs to complete their 200km 2-day journey to Albert Park.
Ginny has announced she is enrolling to do it all again next year! Next year Ginny, hopefully there will be a contingent from Ladies Back On Your Bike to cycle again with you!
The Breeze rides for Bell group, will be programmed as a training schedule so as those who wish will be able to accompany our great leader, Ginny on the 2014 ride!