Ladies Back On You Bike, you sure were! At Women's Ride 2015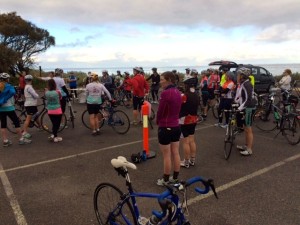 Sunday April 12 2015 :
At Cycling Victoria's 'Women's Ride' 72 Ladies Back On Your Bike participated! A great turn up! Congrats!
What a great sight it was as these photos show!
Ladies Back on Your Bike created 5 rides to cater for all Ladies. This included path rides of 7km, 15km, 30km and road rides of 30km and 60km.
After the rides we enjoyed the free champagne brunch generously supplied by the City of Port Phillip. Mmmmm I think this helped attract riders! We missed one of our Ladies, Linda -Jindy, who was elsewhere on her birthday, (can't understand that!)  but we gathered and posed for a photo shoot which we sent her!
Davina was in great form leading as she departed Elwood at 8.40am leading her 11 ducklings to Williamstown. No rest Ladies, turn around we have brunch to attend was her call at Williamstown! What a great 2.25 hour ride for our top Ladies. The Ladies were all smiles at Elwood as they drank the chambers and ate heartily, so happy with themselves and the camaraderie of the ride.
Jane G and Natalie lead 2 groups of 12 each on a pleasant 15 km cycle into Docklands along the Bay Trail. Everyone looked very happy and pleased with their accomplishment, which is what we are on about. The 30km road ride led by Tsami was well received too. Cycling the Beach rd, then continuing onto Todd Rd, Lorimer Rd. route to Docklands, chosen for its quietness on a weekend. Lee and Jacinta led 2 groups of 12 each on a tourist trail, to Docklands via a 30km path ride. This included Bay Trail, Fitzroy St on the Copenhagen Path, Albert Park Lake, the tan, Anderson st to the Yarra trail, then along Southbank to Docklands.
I didn't see any one of our Ladies join in the tube changing comp! I tried a couple of the fabulous cargo bikes on display. The one shown here could be the pickup vehicle on long rides!
Thanks Ladies! You and the event were great!
Cheers
Jacinta