Go Ginny
Virginia began her cycling life with a phone call to Jacinta, back in February 2013. The first lesson was on a friends mountain bike. At this lesson Virginia announced that despite never learning to ride as child, she was keen to cycle in the Conquer Cancer Ride, benefiting the Peter MacCallum Cancer Centre.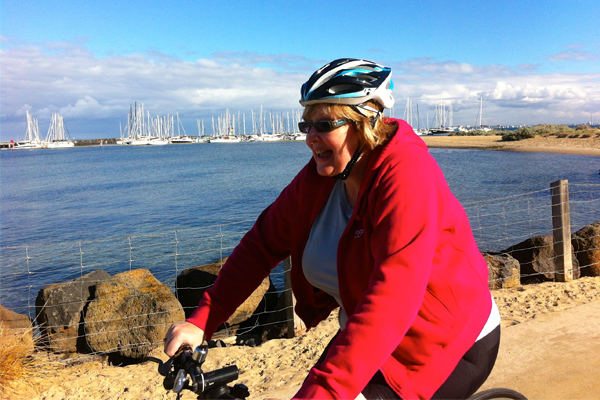 Hmm, quite a challenge to anyone let alone someone who does not own a bike, cannot ride and it seems was pretty nervous of anything that vaguely moved or didn't move anywhere within sight!
Never the less, this wonderful woman bought 'Patsy' from the local bike store and has really strived through her lessons and practice to learn to cycle. She has progressed to road riding and is churning out the K's in the hope that she will achieve her dream in the fund raiser on Oct 25-26.
Ginny said, "I lost both my beautiful mother Maureen and my beautiful mother-inlaw Ann to Cancer when they were in their early 60's…. I'm dedicating this ride to them."
You can make a donation by clicking on the link below to Virginia's home page. Her participant ID is: 771082-7
Virginia has inspired me and I guess will inspire a lot of people as she attempts to achieve her self less goal.
Go Ginny!