Lessons & Group Rides
Never ridden a bike? Haven't ridden in a few years? Like to brave the road? There's a class to suit all riders. Choose from private lessons, group lessons or join a group bike ride.
---
Lessons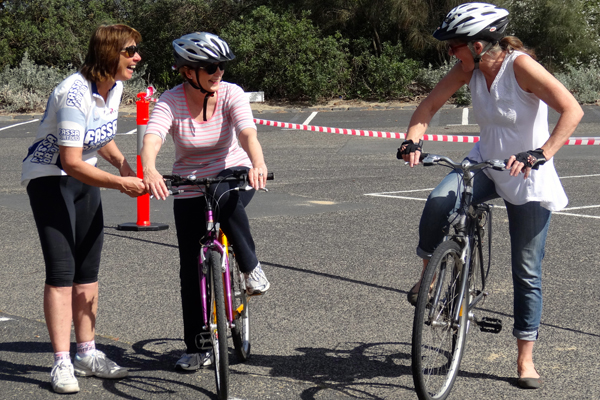 Most of the lessons, both Private and Group, are held in Elwood /St Kilda  Victoria. These are scheduled on both weekends and on weekdays.
Group lessons are listed on the rides/events calendar .
Private lessons are not listed on the calendar as these are arranged to mutually suit the instructor and cyclist.
Private lessons can be for any stage of cycling from, those who have never ridden or those wishing to brush up on their cycling skills. 60 mins. =$80
Group classes.
Skill and confidence classes:  Group class 1.5hrs hrs =$50.
After these sessions, you will be assigned a group suitable for you to cycle with and have fun at a similar standard.
Once assigned a group, if you wish you may join Ladies Back On Your Bike.
The annual fee is $120 per year, adjusted according to when you join.
Insurance Details
Ladies Back On Your Bike, advises members to take out cycling insurance, so as to be covered 24/7.
(Did you know that TAC does not cover you when cycling on a Path?).
Basically there are 2 companies to decide between.
1. Cycling Victoria
2. Bicycle Network.
Contact Ladies Back On Your Bike at admin@ladiesbackonyourbike.com.au
for a pdf file showing a comparison of these 2 companies, policy.
Sadly though, neither of these companies, include your bike in this insurance.
To cover your bike against theft look into :
1. Cycle Cover
2. Cycleleash (Not Insurance, but bluetooth app, a bit like 'find my iPhone!)
3. Bike Sure
Click here for more information on lessons & Group Rides- The Fine Print
---
Group Rides
Social, Breeze and Melbourne Paths are all types of our Group Rides. Each of these, cater for both the confident rider and the non confident rider. Each woman is allocated to a group based on her cycle skill level and endurance. Join 'Ladies Back on Your Bike' for an initial test ride or participate in a lesson to ensure you are allocated to the most suitable riding group. Enjoy social, as well as organised bike rides around Melbourne with woman of similar riding standard.  You will not only make progress with your cycling skills but meet other incredible women along the way.
---
Testimonials