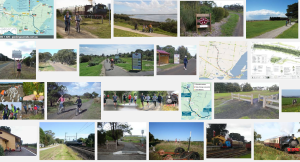 Hi Bonnie Bells,
Its Rail Trail Time in the Geelong area.
Come join me, on Wednesday November 4th,  in exploring the Bellarine Rail Trail from South Geelong to Queenscliff & return for a total of 66km.
BELLARINE RAIL TRAIL
Type: Rail trail
Location: Bellarine Peninsula, 75km from Melbourne
Start/end: South Geelong to Queenscliff
Status: Open
Length open: 32.5km
Surface: Fine gravel, Sealed
Terrain: Hilly
Check out the Ride Map Link:
https://www.railtrails.org.au/index.php?option=com_railtrails&view=trail&id=139&Itemid=245
As a Melbourne Path ride (that isn't using the car transport) this ride will be $20.
Please transfer to LBOYB account with the reference: MP04.11.SURNAME
How do we get there?
Meet at Platform 8 at Richmond Station at 9:00am where we will catch the City Loop train to Southern Cross Station & board the 9:30am Geelong train to South Geelong Station.
How Far?
66km on gravel and sealed paths – wider tyres are better on this trail
What about an morning tea break?
1st Chapter Coffee Spot on the trail
What about Lunch?
Garden Café in Queenscliff – this is a gorgeous garden café – CASH ONLY (prices approx. $13 sandwiches & meals $17 – $25)
How do we get home?
We finish the ride at South Geelong & catch the country train back to Melbourne, where we catch a train home or you can ride depending on how the legs are feeling.
Remember to bring your Topped Up MYKI Card, some cash for lunch and LBOYB ID cards (if you don't have one yet then ask the Leader for one).
Also bring a spare tube and the tyre levers just in case.
BOM forecast is 24 Degrees C
Recommend you wear sunscreen
I estimate the ride to be 7 – 8 hours.
Let me know if you want to join in the fun, the ride is limited to 8 riders max, so be quick. (country trains can only carry a limited number of bikes)
Cheers Natalie