About 'Ladies Back On Your Bike'
JACINTA COSTELLO :
INSTRUCTOR AND PROPRIETOR OF LBOYB
With the creation of 'Ladies back on your bike' a lifelong dream is born and a new path is opened for ladies like you. Refresh your skills or learn the basics, whilst meeting other ladies to enjoy a coffee or wine with along the way!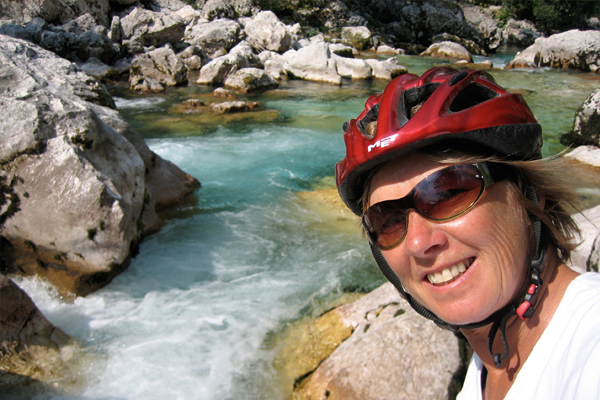 Jacinta's teaching career begun when flares were still rocking and photos naturally shone with an Instagram glow. You've guessed it. We're talking about the psychedelic seventies.
She graduated from Rusden with a Bachelor of Education, with a P. E major, in 1976 and from there began working as a Phys. Ed teacher at Balmoral Secondary. Her passion for cycling surged as she cycled her way through the beautiful western district county side every chance she had.
Jacinta's passion for cycling is obvious and amply demonstrated from as long ago as 1981, when upon reading that Brighton (now Bayside) Council had opposed the building of a bicycle path along the Bay. She acted promptly and organized a rally in Church St Brighton. Luckily she peddled the system so well that this outcry successfully caused the Council to reverse its decision and consequently we have the glorious Bay Trail, as you know it today along the beach following the Bay.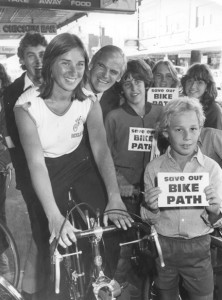 Convinced that not only Bayside residents should feel the freedom and joys of cycling, she approached schools in later years to incorporate cycling programs into their curriculum. This resulted in her personally taking school groups of students on Great Victorian Bike Rides for the following five years, whilst continuing to teach at Ruyton Girls School.
From 2004 to 2013 Jacinta continued being involved in cycling, teaching and road safety education with the Education Department, Vic Roads, Bayside Council and Victoria University.
Along the way, Jacinta motivated her colleagues to get back on their bike. As Bicycle and Road Safety Officer, at Bayside Council, not only did she strive to implement the 2007-09 Bicycle Strategy, but she also introduced cycling to the staff. Weekly lunchtime lessons converted to weekly rides and finally culminated in a Bayside Council team cycling in the famous 'Around The Bay' in 2008.
Keen to convert any and all to her two wheeled religion over the years, as you will read in the testimonials, Jacinta has taught all to not only cycle but to take part in local, interstate and international cycle journeys. Jacinta has organised and partaken in cycle trips from Tasmania to the Arctic Circle and many more in between!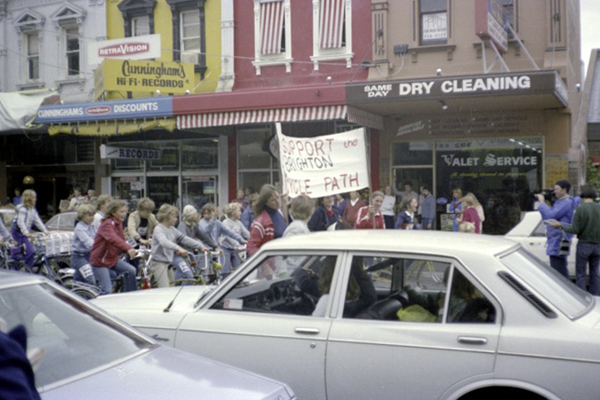 These journeys are an invaluable education of one's self, of the environment and culture. And a heap of fun!
Finally, she says, the people she has encountered, the places she's seen and the joy she's felt from all these years cycling has made her realise that cycling is not just a sport, or a mode of transport, but a vehicle that connects you with others and the world around you.
Jacinta is really motivated and excited to share this joy, meet more incredible women and let cycling take you on a new route that you may only now imagine. So, are you ready ladies to come with me? It's time to get from the car and back on your bike!
INSTRUCTOR :
(DANIELLE) NELL SUDANO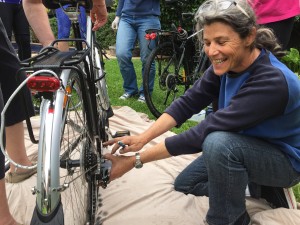 Hi all,
Jacinta has asked me to introduce myself by way of a photo and a short blurb about myself'. Actually, I look nothing like this photo but it was that or the one from the police file. I think I look quite good in the latter but she said it wasn't suitable.
As for the 'about me' bit, I can only assume she's talking about after, not before, bikes became a big part of my life; since the before is a miserable read indeed.
A few short years ago I left car-ravaged Sydney and discovered Melbourne, jewel of the south! Where people, cars and bicycles!!!! all happily co-exist. So I quickly decided to abandon all pretense at mature adultness and have the happy childhood I'd always craved. Yes, I GOT BACK ON MY BIKE (um.. the 'lady' part is still a work in progress…)
The enormous positive changes that have flowed from that decision have produced the person I am today. A crazy, evangelical, fundamentalist, cycle training force of nature. Before whom resistance, doubt, anxiety, bad backs, dicky knees, or lack of self belief in any woman who may be contemplating taking up the gentle art of bicycle riding are as nothing! My motto is that well known ( but oft misquoted ) Latin saying..'Carpe Bikeum'
I am delighted to be joining forces with the LBOYB team to pursue personal revolution (oh, and world domination).
See you there.
Nell.
And indeed you will.
Nell is a fantastic Lady and a super Instructor, just ask those who have already been instructed by her in LBOYB!
Nell said of the photo above,
" Looks like I'm about to tear the deraillier  off and eat its liver. I look like Hannibal Lecter. Which is about how I'm feeling trying to write a paragraph ' about me'. Luckily someone invented the paperless office. There would be a mountain of dead trees overflowing from my waste paper bin by now if this was not an  ipad. Winge,winge,winge etc….'.
Agh,I'm wrapt to have Nell be an instructor in LBOYB!       (Jacinta )
Proudly Associated
Ladies Back On Your Bike is Cycling Victoria's preferred cycle coach for Bayside.
AustCycle

AustCycle was established in 2008 as a joint initiative of Cycling Australia, the Amy Gillett Foundation and, until 2010, the Bicycle Federation of Australia. It was the result of over a decade of research that identified a strong need to develop a national education approach to community cycling, which in the past was highly fragmented and provided on an ad hoc basis.

AustCycle is Australia's only national cycling accreditation program, which provides high quality education and training to community members to encourage them to get on their bikes and ride. Whether for commuting purposes, for leisure or travel, AustCycle trains people of all ages and backgrounds to incorporate cycling into their lifestyle in order to stay active and healthy.

AustCycle is the industry standard for teaching bike handling skills to the community in on and off-road environments. It is a national system using accredited instructors (called Teachers) working for Licensed Providers, delivering training supported by an accredited national curriculum.
Cycling Victoria

Cycling Victoria is the governing body for the sport of cycling in Australia, and is affiliated to Cycling Australia and the UCI. Having traditionally focused on Road & Track cycling, Cycling Victoria now runs recreational events and community programs along with racing events and other development programs.

Cycling Victoria is the premier provider of AustCycle in Victoria and is looking to positively impact on the number of confident cyclists in Victoria by working with councils, businesses and the broader community to run cycling training.