we are about cycling for fun

we are about enjoying cycling with other women of similar fitness and interest

wear lycra if you like, however visible comfortable clothing is perfect

we are about teaching women to cycle

we are about cycling on bike paths (and road if you'd like)

grab your cobwebbed bike hiding in your garage

Learn To Ride
Jacinta is a Nationally Accredited AustCycle Teacher with over 30 years of cycling and teaching experience.
Meet Other Women
Ride with other like minded women and who knows you could even create new friendships.
Get Active
Not only does cycling keep you fit but it also benefits your joints and helps your heart.
Discover Melbourne
Ride on the numerous bike paths and /or roads in and around Melbourne. You will be amazed how many there are!
---
---
Latest News :
Click on a news item, to read the news!
---

'SHE RIDES' PROGRAM HELPS BAYSIDE WOMEN GET BACK ON THEIR BIKE
Cycling Australia's 'She Rides' program gets rolling in Bayside and 40 other locations around Australia.
Cycling Australia's 'She Rides' program has helped women in Bayside and Darebin regain their riding skills, improve their fitness and create a social network of friends in the local community.
Following the success of programs in 2014, 2015 and 2016, we look forward to doing so again in 2017 in Bayside.
The program, was created following findings from a Female Stakeholder Consultation by Cycling Australia that identified that most women would ride more if they felt safer, more confident in their abilities and had an organised group to join.
Register at: http://www.cycling.org.au/Recreation/She-Rides
or contact Jacinta on 0417 311 708 or through the CONTACT page on this web site .
The Rides Calendar (includes events eg. Maintenance session)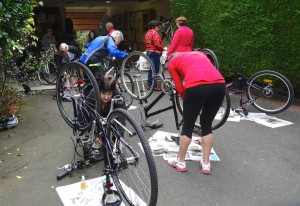 The rides calendar caters for all women in 'Ladies Back On Your Bike'.
Join 'Ladies Back on Your Bike' for an initial test ride or participate in a lesson to ensure you are allocated to the most suitable riding group. Enjoy Social and Breeze rides (both Free, once allocated a group) as well as organised bike rides around Melbourne with your cycle group. You will not only make progress with your cycling skills but meet other incredible women along the way. There are 4 groups based on skill level: The Bells, Saddles, Wheelies  and Spokes!
Already a capable rider and want to join our group rides? You must first complete a 'test ride' so you can then be placed in an appropriate group based on your skills.
'Test Ride' (1hr. includes coffee stop/info chat) = $50
Annual fee = $120
---
Testimonials


---
"Ladies Back On Your Bike is Cycling Victoria's preferred cycle coach for Bayside."